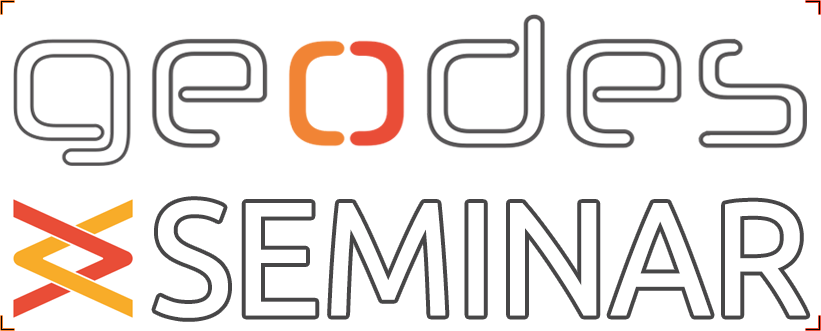 The GEODES Seminar aims to bring together members of the group in a semi-formal setting with a semi-regular timing.
We'd especially love to see students at all levels reporting their progress, entertain presentations on core or adjacent topics, host dry-runs before conferences, etc.
These events follow an in-person format. By that, we hope to re-establish the everyday social aspects of the research group in a post-COVID world.
Format: In person
Location: Pavillon Andre-Aisenstadt
Upcoming talks
TBA

Stephane Ducasse is a research director at INRIA Lille, leading the RMoD Team. His research focuses on helping companies to support the evolution and maintenance of their large applications, and improving languages to better support evolution. Nicolas Anquetil an Associate Professor at the University of Lille, France and member of the RMod research team. My research interests covers various topics of software maintenance and evolution.

2022-06-03

@TBA

TBA, Pav. André-Aisenstadt

Fine-grained Analysis of Similar Code Snippets

Code recommendation relies on code snippets extracted from projects to provide suggestions. Thus, extracting and characterizing reusable and recurring code structures is essential. In this work, we characterize recurring code structures through parametrizable code templates. Code templates can outline the common structure in code snippets along with their variation points, hence providing a convenient way to define their structural similarity. We propose an approach leveraging the Pattern Structure framework to highlight and organize groups of similar snippets.

2022-06-10

@TBA

TBA, Pav. André-Aisenstadt
Previous talks
Multi-paradigm modeling of complex heterogeneous systems – Are we there yet?

Nowadays engineered systems have reached a previously unprecedented complexity. Systems are becoming faster, more autonomous, and more safety-critical. To cope with this increasing complexity, engineering is best approached through modeling. Throughout the design, engineering, and assembly stages of a system, modeling offers many benefits. For example, the design-space of the system can be explored easily by multiple stakeholders, or properties can be formally verified at the early stages of system construction. Model-driven engineering also enables the partial synthesis of the system, eliminating many sources of human error from the overall process. Multi-paradigm modeling (MPM), specifically, advocates modeling aspects of the system using the most appropriate formalisms. The diverse nature of these formalisms allows for increased descriptive power but complicates coordination between stakeholders. Pertinent examples are cyber-physical and mechatronic systems which feature various mechanical, electrical, and software components. In such settings, a common vocabulary among stakeholders cannot be assumed. This, in turn, gives rise to inconsistencies between stakeholder models, which might result in faulty or suboptimal products. This talk introduces three lines of research addressing major challenges in MPM. First, the PROxIMA inconsistency management framework focuses on optimizing and intelligently orchestrating the overall system engineering process. Second, the Lowkey framework allows for real-time collaborative modeling between heterogeneous stakeholders. Third, a technique for the automated inference of simulation models by reinforcement learning to further automate system engineering tasks.

2022-05-20@13h00

3195, Pav. André-Aisenstadt

Improving online visibility for you and your research [presentation]

Visibility is a key success factor for researchers to increase their impact in academica. A particular challenge of academic visibility is that it requires effort over time. This talk will provide the audience with motivation and specific recommendations for increasing their academic visibility online. Specifically, online 'channels' such as ResearchGate, Google Scholar, and personal websites are discussed, along with best practices and tips for maintaining up-to-date information. This talk is for early-stage and mid-stage researchers who are interested in improving their online presence.

2022-05-13@11h00

3195, Pav. André-Aisenstadt

AST-Probe: Recovering abstract syntax trees from hidden representations of pre-trained language models

2022-05-06@14h30

3195, Pav. André-Aisenstadt
Contact
Got an interesting topic you'd like to present? Reach out to your favorite postdoc for details.